Philip E. Jaeger is a lifelong New Jerseyan. He was born and raised in Irvington. After graduating from Irvington High School, he received his undergraduate degree from Upsala College. He then served in Counterintelligence Corps in the U.S. Army, and subsequently earned a Master's degree in statistics from Rutgers University.
After working in two historic buildings in New York City, first with Shell Oil at 30 Rockefeller Plaza, and then with Lever Brothers at Lever House at 390 Park Avenue, in 1974 Phil began a second career as a mathematics and computer science teacher. He taught at Millburn High School for more than 20 years, retiring in 1994. As a testament to his teaching career, he still keeps in touch with many of his former students.
Phil has lived in Cedar Grove with his wife of more than 45 years, Jean, since 1964. They currently live in the house in which Allen B. Du Mont made significant advances in the cathode ray tube, which was used in televisions and computer monitors until the early 21st century.
Phil is currently a trustee of the Passaic County and Cedar Grove Historical Societies, and is a former member of the board of directors of the Canal Society of New Jersey. For more than 40 years he has also been a member of the Metropolitan Railroad Club. In addition to making presentations at historical societies, libraries, civic groups, and other organizations, he is frequently consulted on historical matters in northern New Jersey and for his large archive of postcards, maps, and New Jerseyana.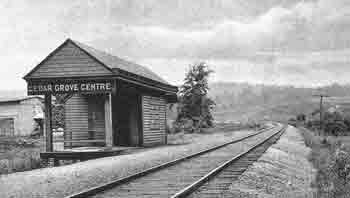 Cedar Grove station, early 1900s