"The past is never dead. It's not even past."
-- William Faulkner, Requiem for a Nun

you ever wondered about the past? Would you like to know what things were like in New Jersey 50, 75, or 100 years ago? And what is left from those eras today? Phil Jaeger, renowned local historian, will take you on a journey from the past to the present. Through pictures and words, experience New Jersey like it used to be.
on a personal collection of more than 5,000 postcards, historical maps, and documents, as well as his own photographs, Phil Jaeger has created historical programs that are as enjoyable as they are informative. His programs have drawn rave reviews from organizations all over New Jersey.

former high school mathematics teacher, Phil Jaeger is a trustee of the Passaic County and Cedar Grove Historical Societies. He is also a member and a former director of the Canal Society of New Jersey.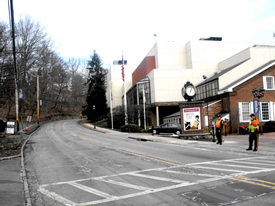 Paper Mill, Millburn, New Jersey, Then and Now